13 février 2012
1
13
/

02
/

février
/

2012
21:39
I came home this Sunday to find my mum had baked us delicious Cinnamon rolls, they're really delicious, and I couldn't not share the recipe with you.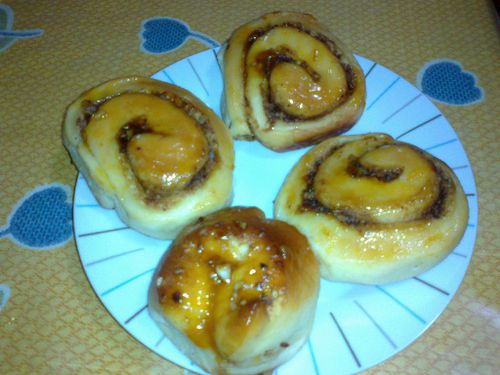 Ingredients:
3 ½ cups of flour
1 small tablespoon of Yeast
1 small tablespoon of Baking Powder
½ cup of sugar
3 big spoons of powder milk
1 cup of warm water
¼ cup of corn oil
1 Yellow egg
Preparation:
To prepare the dough, we mix all the ingredients until soft dough forms, we cover it and we wait for three hours to let the dough rise, or until doubled in size. Then we punch it down, with the baking rolling pin.
We add four spoons of soft butter, then ½ cup of brown sugar, ½ cup of ground almond, raisins, and two small spoons of cinnamon.
We put them on the dough and we roll it, then we cut it into 24 pieces and we put them in the baking pan for 3 hours and we cover it and let it rise or until doubled in size.
We bake them in a preheated oven until lightly browned. Then we put apricot jam on the top et bon appétit!