6 septembre 2010
1
06
/

09
/

septembre
/

2010
12:13
For my summer vacation this year, i went to visit my sister who is living in Germany and it was my first visit! And since it was in August, which is considered as High season, i couldn't find a normal ticket so i had a Business class ticket

After bring dropped at the airport by my other two sisters and my lovely nephew ofcourse, i had the occasion to spend some time at the airport lounge until my plane takes off

Once i'm in the plane, of course i got very good service; champagne as welcome drink, then wine and some nuts, and after a while a hot meal with wine of course, then dessert...

I was on the Czech airlines, so i had a stop in Prague before reaching Germany. When i first reached Prague airport and looked all around me and saw all the Blond people everywhere i was like "Am I in heaven already"

Took a walk in the airport and then searched for my gate and waited for my flight. As i was looking around me, almost everybody was READING while waiting for their flights!! which is something really rare to see in Lebanon, unfortunately

But my second flight, from Prague to Germany was really unpleasant, although i was still Business Class! But it wasn't the airline's mistake, it was the weather's

it was raining with thunder!! I barely could eat my cheese, and when i looked to see what the economy class were eating, poor they, they barely had a muffin

Finally i'm in Hamburg, saw my sister

went home and ate her yummy soup she had prepared for me. Since it was late, I went to bed to be prepared to go to the city the next day!!!
So we woke up & headed to the city!!! But of course it was raining and grey, not really what i had expected!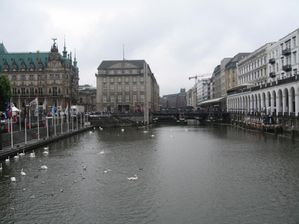 While we were walking in the city, i felt like the Hamburger was following me everywhere

Hamburger here, Hamburger there...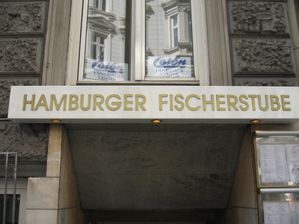 Well i was really in Hamburg!!
Then it was lunch time, and of course i had to taste the famous Wurst,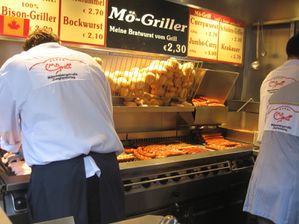 I had a Curry Wurst, it was Yummy!
And since it was raining almost all the time when i was there, we had no choice but to go shopping

and it was mostly in the Mönckerbergstraße, which is a really famous shopping street.
When the weather was a bit better, we had a walk along the Alster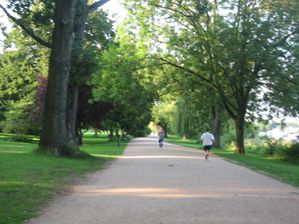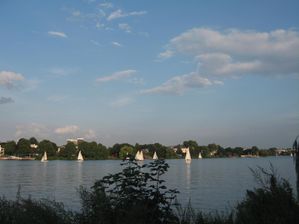 It was such a lovely calm place, you could see lots of people running, walking with their dog, or maybe just relaxing on the lovely green grass and reading a book!! It's a really nice place to visit when in Hamburg.
My sister also took me to the speicherstadt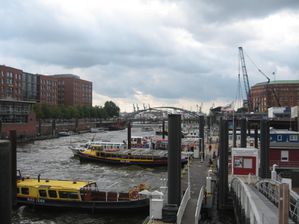 which is the world largest timber-pile founded warehouse district of the world, it is located in the port of Hamburg, within the Hafen city quarter.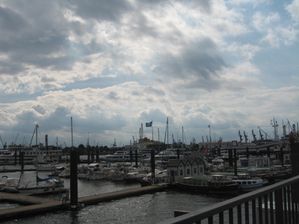 I also went with my sister to her university and got the chance to visit the library. Man!! it was a Real Library, so Huge with so many books and places for students to study and use the computers. And it was full most of the time and it was summer!! Too bad i didn't take any picture!!
I really wish universities in Lebanon encourage their students to come and sit in the library to study or search for info. It's something we really miss in Lebanon.
On my last night in Hamburg, we went to a bar called "20up" which was also in the Hafen city. It's a bar on the 20th floor from a very fancy hotel, where you can see the port at night with all the ships, and that night a "Aida" ship was passing by, it was so charming. I really don't think the view will ever be erased from my memory.....
Couldn't take pictures with all the chic people around.
On my was back home, I wanted time to pass so quickly to see my family, my friends and to be back to my job