15 novembre 2011
2
15
/

11
/

novembre
/

2011
14:15
The training phase of "The Execution" started yesterday, the 11 teams were present, getting ready to discuss, debate, and pitch their ideas.
The training started with Michel Nehme of Cedrus Ventures explaining the do's and don'ts of business to the teams, also talking about target markets and Ads for their target markets.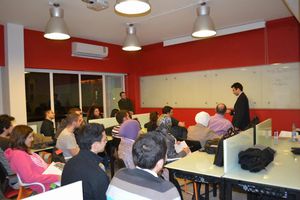 Followed by Michel El Meouchi of Badri & Salim Law Firm explaining the Startup Law to the 44 entrepreneurs.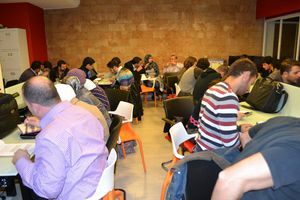 It was a very active training with role playing, the teams were asking each other questions and taking opinions.
The winners of yesterday's GEW Launch Partners' Pitch Competition were:

1st place with 28 votes: MIT

2nd Place with 20 votes: BAU

3rd place with 19 votes: BADER

4th place with15 votes: Seeqnce

5th place with 14 votes: Toastmasters
Stay tuned for Day II this afternoon, and don't forget to follow the hashtag #TheExecution on twitter for a live update.
BREAKING NEWS:
H.E. Minister of Telecommunications Nicolas Sehnaoui is confirmed to lead the Jury of "The Execution" Lebanon's 1st Internet Startup Competition.