23 janvier 2012
1
23
/

01
/

janvier
/

2012
11:07
Benchmark hosted the first open house of 2012 for all its project owners on Thursday January 5, 2012, at the Wadi Hills Residences, Downtown Beirut. This event was held in one of the beautiful and spacious duplexes, where all home owners were invited to meet and greet their neighbors and the Benchmark development team. The evening was a social gathering, where the owners were also invited to visit a fully furnished simplex apartment, to visualize and start planning the look and feel of their new homes.
Benchmark is a visionary developer that considers projects as more than just a product of architectural and engineering feats. At the core of Benchmark's philosophy is social responsibility. Benchmark actively seeks to contribute to the improvement of quality of life of the residents in each of its projects. Its first offering is through Wadi Hills Residences, Benchmark's first project in Lebanon that provides a luxury gated community covering nearly 8000 square meters of land. Made up of 7 low-rise apartment buildings, with intensively landscaped gardens, the project offers an outdoor safe environment and exclusive private living in downtown Beirut.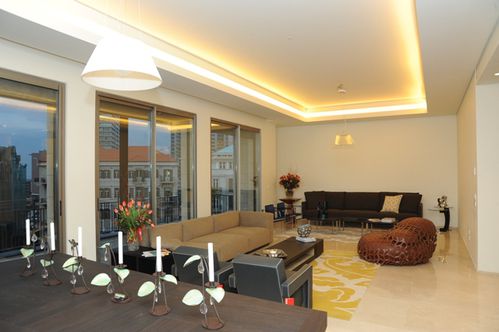 This standout project offers its residents a unique urban community very much represented during the event. Guests mingled and socialized as they discussed their new homes over canapes & cocktails, and the jazz band on hand accompanied the night with a soothing soulful vibe. The charming setting and the exquisite design of the apartment combined to deliver a friendly convivial atmosphere, worthy of any real open house for a residential community.
"We felt it was important for Benchmark to introduce itself to all the future residents and owners of Wadi Hills, and introduce them to their neighbors" stated Zina Dajani, Managing Director of Benchmark Development. "Wadi Hills aims to be a beacon of community living in the real estate sector, allowing people to live in a luxurious gated residential community, that was designed with inspirational care and developed with the highest standards and quality" added Mr. Bassim Halaby, CEO. "It was also very pleasant to finally be able to meet everyone and have the owners all say such wonderful things about the project. Wadi Hills promises to be a vibrant community, offering a new lifestyle to its residents, their friends and family."
Wadi Hills Residences is a project managed by Benchmark. There are still several apartment sizes available (250/350/480m2) and our helpful sales team are at your service if you might have any questions. For more information please visit www.wadihills.com