22 mars 2011
2
22
/

03
/

mars
/

2011
08:55
Mother's Day in Lebanon comes on March 21st each year, I had to write this post yesterday but I really didn't have time with Mother's day event at work, then surprise for my Mommy in the evening!!
So for the two best Mommys I know, I wanted to make them something personalized, so Imade two lovely cards, I know they loved them and they're telling everyone about them by now

I hope you like them too...
For my Dearest MUM, she's the one I took all my patience from, the one who gave the best smile I can ever have and the sense of crafting, I LOVE YOU veryyyy much...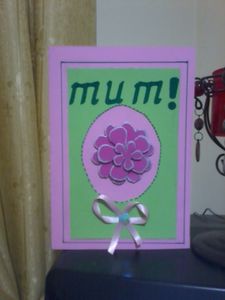 I made her a simple card, using coloured felt pens, coloured carton, coloured ribbon, coloured paillette, coloured sticky felt for the rose and glue of course!!
And for my Lovey Sister, Mother for a 7 year old, Great Teacher and still hanging on, LOVE YOU.......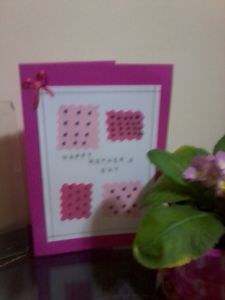 I made her this cute card, using coloured cartons, coloured papers, couloured stamps, coloured ribbon, craft scissors and glue.
What did you get for your Mother on her special day?? Is it something with your touch??